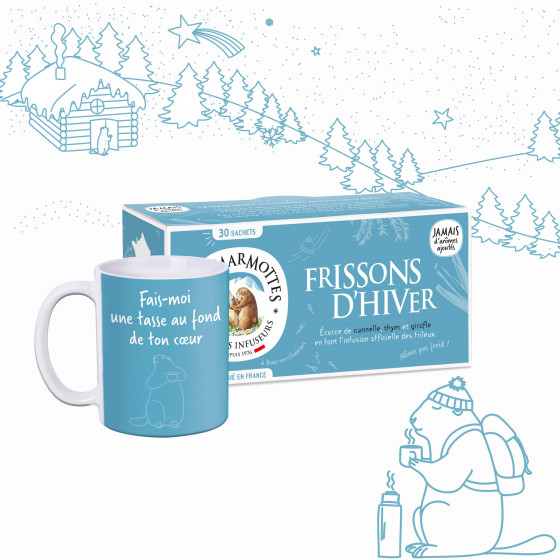 "Une tasse au fond de ton coeur" Pack
"Une tasse au fond de ton coeur" Pack
Gift Idea
The pure mountain air has inspired our brewmasters to concoct THE ultimate winter drink. Spicy notes of cinnamon and clove enhanced by thyme to warm the body and mind.
Tasting details
A brown hue with twinges of green.
An intense scent of spices, cinnamon, and clove, accompanied by the powerful floral aroma of thyme.
A strong spiced flavour with a subtle note of thyme.
Ingredients
Pack contains 1 box and 1 mug  
Net weight : 45g (Winter Chill box) 
Winter Chill ingredients: 31% cinnamon bark, 31% thyme, lemon peel, eucalyptus, 8% clove. EU/Non-EU origin.
Recyclable bags - tea bags without staples, string or labels
Infusion made in the French Alps
Pale blue mug printed with a quote "Une tasse au fond de ton coeur" ("A place in your cup") and the Les 2 Marmottes logo on a drawing of plants. 250 ml - hand wash recommended - microwave safe