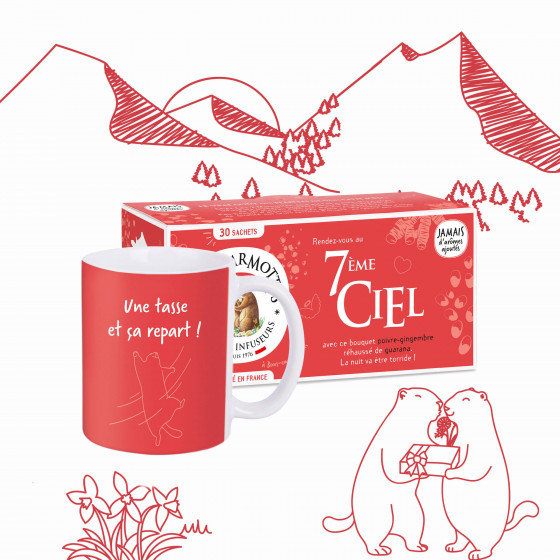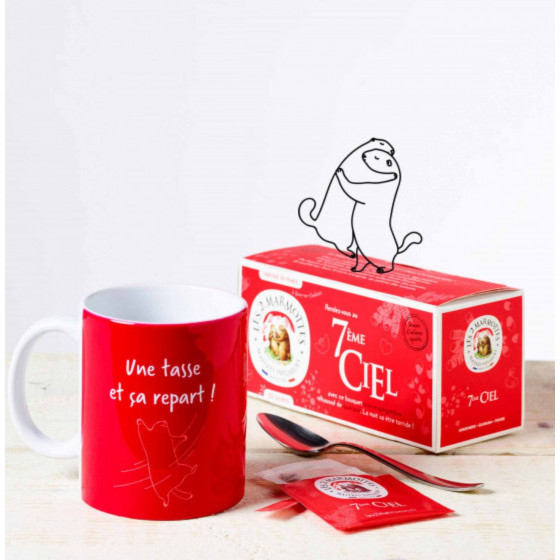 "Une tasse et ça repart" Pack
"Une tasse et ça repart" Pack
Gift Idea
Full of fiery promise, our 7th Heaven herbal tea is filled with hot notes and guarana energy, a true declaration of love and a harbinger of passionate desire. Our organic herbal tea will spice up your relationship! Enjoy it all the more in its very own bright red mug. A cup made by the delicate hands of Aphrodite and Cupid... 7th Heaven here we come - only plants allowed!
7th Heaven: a pepper-ginger bouquet enhanced with guarana. It's gonna be a steamy night!
Tasting details
A dense yellow hue.
The captivating scent of lemongrass is mixed with a pungent promise of spices.
A powerful ginger attack, full-flavoured lemongrass, and the spicy charm of black pepper.
The genuine taste of plants! At Les 2 Marmottes, everything is home-made. Our brewmasters taste, cut, sift, and combine more than 50 plants in our workshops in France's Haute-Savoie region. There's no need for artificial flavouring when quality plants are selected from their native soil and according to the season.
Ingredients/Packaging
Pack contains 1 herbal tea box (30 tea tags) and 1 mug  
Net weight : 45 g (box 7th Heaven) 
7th Heaven ingredients: 50% ginger*, coriander seed*, lemongrass*, eucalyptus*, 4% guarana*, 2% black pepper*. EU/Non-EU origin.
*100% organic ingredients. FR-BIO-15.
Recyclable bags - tea bags without staples, string or labels
Infusion made in the French Alps.
Red mug printed with a quote "Une tasse et ça repart" ("One cup and you're good to go") and the Les 2 Marmottes logo on a drawing of plants.
250 ml - hand wash recommended - microwave safe