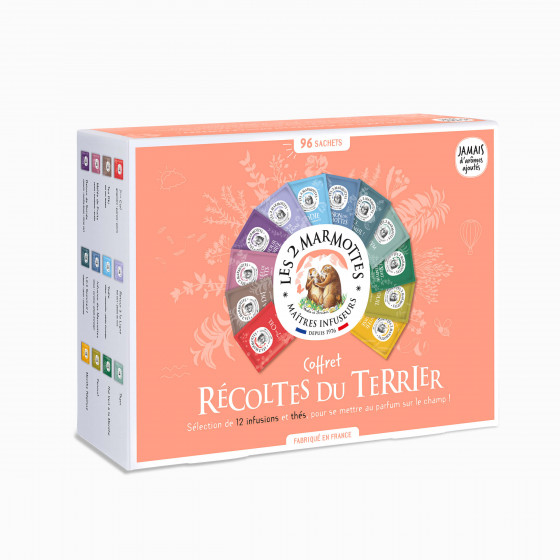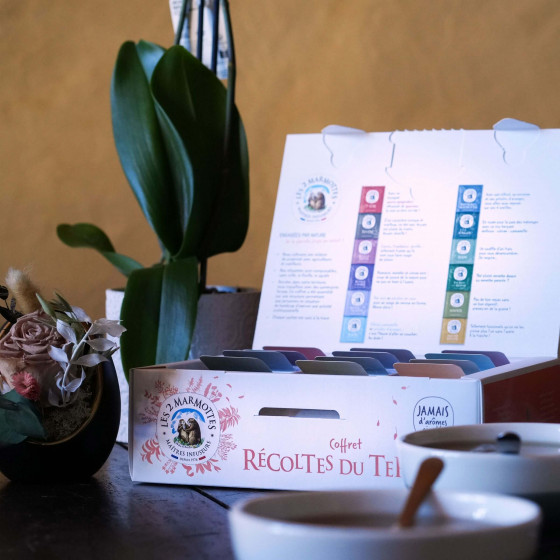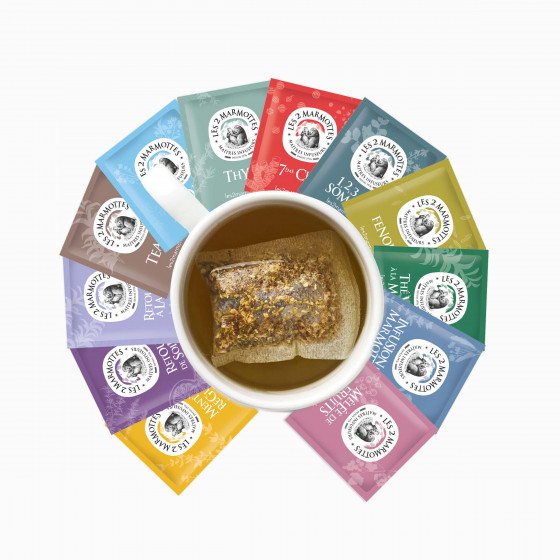 Large 'Burrow Harvest' Pack
Large 'Burrow Harvest' Pack
This assortment of 12 herbal teas and infusions is the perfect way to test a wide range of our brews, which are free from added flavourings. We've collected the very best plants from a range of passionate producers to create this beautiful box. Take your taste buds on a journey through nature!

'Home-made' is our cup of tea here at Les 2 Marmottes! During the Haute-Savoie winter, we spend our time tasting, cutting, sifting, and mixing in our little burrow! Our main role as brewmasters is to continue to select the best plants to offer you more and more flavours and benefits. For a loved one or just for you, there's no better gift than our tea and herbal tea box offering the genuine taste of plants. And all this without a hint of added flavouring or sugar, of course!
Large box of assorted infusions
If you're looking for something 100% plant-based, with no added flavours or sugars, you've come to the right place! With this tea and herbal infusion set, it's definitely parTEA time! Always on the lookout in their workshops, our master blenders have concocted 12 brews to accompany you throughout the day:

Lemon balm, lemon, and chamomile, a soothing combo for a restful night's sleep. 1,2,3...Sleep! let it carry you off on a cloud!

See you in Seventh Heaven for a pepper-ginger blend enhanced with guarana. It's gonna be a steamy night!

Every good meal needs a good digestive! FENNEL: small seeds that pack a big punch. An infusion from our tea and herbal tea set that certainly works wonders! Enjoy it as a cold brew!

With the 7 plants of our MARMOT HERBAL TEA, including linden, verbena, and orange petals, you can relax, unwind, and let your worries slide.

Blackcurrant, raspberry, cranberry: our Fruit Blend infusion will give you rosy cheeks.

MINT LIQUORICE: could you even imagine one without the other!? Enjoy it as a cold brew!

Witness the fitness! Our BACK IN SHAPE brew is the ideal parter for your fitness journey.

AFTER PARTY boasts notes of rosemary, mint, and lemon... A helping hand from nature to avoid waking up on the wrong side of the bed.

Our stimulating and unctuous Breakfast TEA is best enjoyed in the morning. Wake up with Assam!

Are you torn between spearmint and peppermint? Then have both! This very thirst-quenching organic MINT GREEN TEA can be enjoyed hot or cold!

A great classic from our tea and infusion set: THYME, and nothing else! A real breath of fresh air to clear your sinuses. Breathe in, breathe out...

Linden, chamomile, orange petals: YODIE says time for bed, kids (and grown-ups!).




Ingredients
A selection of plants for infusion

Box of 96 teabags (12 brews x 8 teabags)

Net weight: 148 g


Recyclable wrappers, tea bags contain no staples nor strings.
Product made in France (Haute-Savoie)


1,2,3...Sleep! (8 teabags) - Ingredients: 35% lemon balm leaf, 22% lemon, 20% chamomile, lemongrass, rooibos, stevia leaf. EU/Non-EU origin

Seventh Heaven (8 teabags) - Ingredients: 50% ginger*, coriander seed*, lemongrass*, eucalyptus*, 4% guarana*, 2% black pepper*. EU/Non-EU origin.

FENNEL (8 teabags) - Ingredients: 100% Foeniculum vulgare fennel seed. French origin. Not intended for people who are hypersensitive to umbellifers.

MARMOT HERBAL TEA (8 teabags) - Ingredients: 20% linden, 20% scented verbena, peppermint, hibiscus flower, rosehip, German chamomile, 4% orange petal. EU/Non-EU origin.

Fruit Blend (8 teabags) - Ingredients: 32% fruit (apple - 11%, blackcurrant - 10%, raspberry - 9%, cranberry - 2%), blackcurrant leaf, 21.3% hibiscus flower, rosehip, rose petal, stevia leaf. EU/Non-EU origin.

MINT LIQUORICE (8 teabags) - Ingredients: 80% spearmint and peppermint**, 20% liquorice**. French/Non-EU origin

BACK IN SHAPE (8 teabags) - Ingredients: 66% Camellia sinensis green tea, verbena, 9% rose petal, lavender. EU/Non-EU origin. Green tea is used to facilitate weight loss alongside dietary changes. High caffeine content, not recommended for pregnant or breastfeeding women or for children (10 mg per 100 ml).

AFTER PARTY (8 teabags) - Ingredients: 35% rosemary*, 30% spearmint*, lemongrass*, coriander seed*, 7% lime*, eucalyptus*. EU/Non-EU origin.

Breakfast TEA (8 teabags) - Ingredients: 100% Assam* black tea. Origin: India

MINT GREEN TEA (8 teabags) - Ingredients: 50% green tea*, 50% spearmint* and peppermint*. French/Non-EU origin

THYME (8 teabags) - Ingredients: 100% thymus vulgaris/zygis. EU origin.

YODIE (8teabags) - Ingredients: 23% linden, scented verbena, 15% German chamomile, 15% orange petal, rosehip, orange leaf. EU/Non-EU origin.

Be sure to maintain a varied and balanced diet and a healthy lifedata-font. For pregnant or breastfeeding people and children under 12, ask your doctor for advice before consuming.

*Organic Ingredients. FR-BIO-15