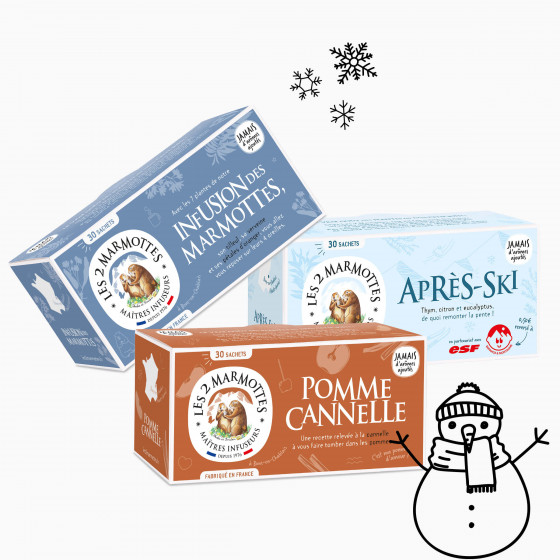 Filled metallic box - winter edition
Filled metallic box - winter edition
The perfect gift idea
Falling in love with this gorgeous Les 2 Marmottes metallic tea box? It's been specially developed to hold 3 infusion packs picked out by our furry mascots: Apple Cinnamon, Après-Ski, and Marmot Herbal Tea. 3 herbal teas to help you through the winter.
A touch of spice for a warm treat under a blanket, an invigorating note of thyme and eucalyptus that will remind you of the snow-covered mountains, and a gentle brew for the evening before you slide into bed... all in a lovely box that will fit nicely in your cupboard.
Assortment
3 boxes of infusions (90 teabags) in a metal presentation box. Ingredients:
Après-Ski: thyme 70%, lemon 22%, eucalyptus 8%. EU/Non-EU origin. Net weight: 45 g - Box of 30 teabags
Marmot Herbal Tea: 20% linden, 20% scented verbena, peppermint, hibiscus flower, rosehip, German chamomile, 4% orange petal. EU/Non-EU origin. Net weight: 46 g - Box of 30 teabags
Apple Cinnamon: 30% apple, 30% Chinese cinnamon bark, hibiscus flower, rooibos, stevia leaf. EU/Non-EU origin. Net weight: 45 g - Box of 30 teabags


Recyclable wrappers, tea bags contain no staples nor strings.
Product made in France (Haute-Savoie)
Dimensions
The Dimensions of the metal box are 23 x 18 x 9 cm.