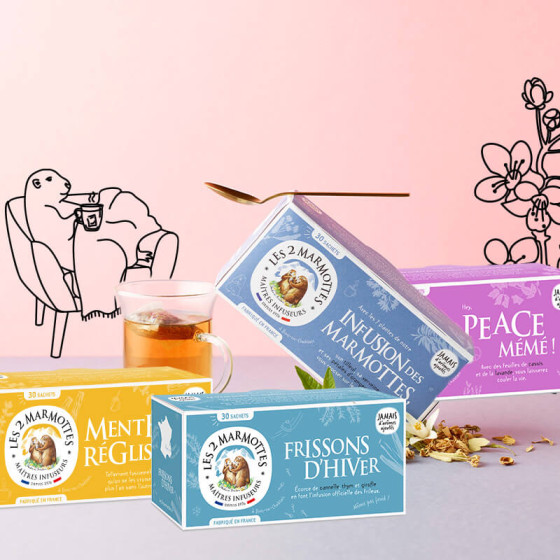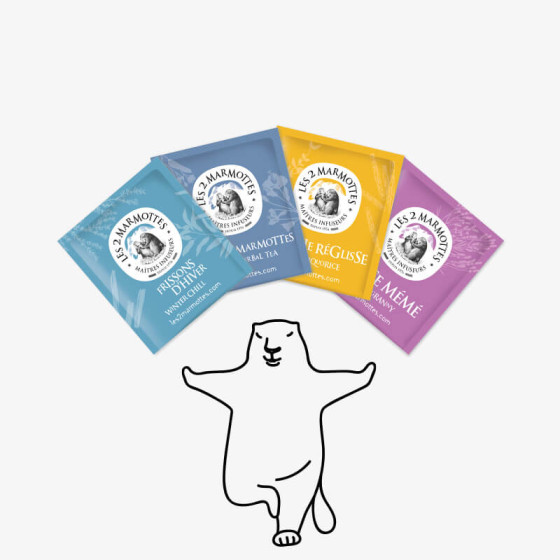 The genuine taste of nature
With this assortment of 4 herbal teas, you'll definitely be doing the self-care thing right! Our brewmasters have mixed the great classics along with some house blends to tantalise your taste buds! Nothing but plants and no added flavouring.
120 bags (4 boxes x 30 teabags)
Peace Granny are gaga for you blakcurrant leaves and lavender notes
MINT LIQUORICE: could you even imagine one without the other? Enjoy it as a cold brew!
With the 7 plants of our MARMOT HERBAL TEA, including linden, verbena, and orange petals, you can relax, unwind, and let your worries slide.  
Winter Chill.Cinnamon, thyme, and clove: a comforting infusion that you'll love all the more after being out in the winter air.
Health benefits
At Les 2 Marmottes, everything is home-made. Our brewmasters taste, cut, sift, and combine more than 50 plants in our workshops in France's Haute-Savoie region.
There's no need for added flavouring when quality plants are selected from their native soil and according to the season.
Ingredients/Packaging
Pack of 4 boxes - Selection of plants for 'Time to Unwind' infusions
Net weight: 33 g (Peace Granny) + 42 g (Mint Liquorice) + 46 g (Marmot Herbal Tea) + 45 g (Winter Chill), for a total of 166 g - 4 x Boxes of 30 teabags
Ingredients in each box:
Peace Granny (30 teabags) - Ingredients: 50% blackcurrant leaf, 35% lavender, burdock root. France/Non-EU origin.
MINT LIQUORICE (30 teabags) - Ingredients: 80% spearmint and peppermint**, 20% liquorice**. **100% organic ingredients. FR-BIO-15. This product contains liquorice. People with high blood pressure should avoid excessive consumption.
MARMOT HERBAL TEA (30 teabags) - Ingredients: 20% linden, 19% scented verbena, peppermint, hibiscus flower, rosehip, German chamomile, 8% orange petal.
Winter Chill (30 teabags) - Ingredients: 31% cinnamon bark, 31% thyme, lemon peel, eucalyptus, 8% clove.
Recyclable wrappers, tea bags contain no staples nor strings.
Product made in France (Haute-Savoie)