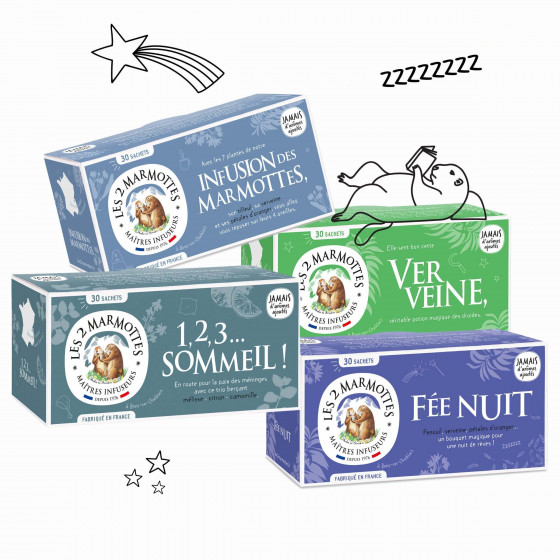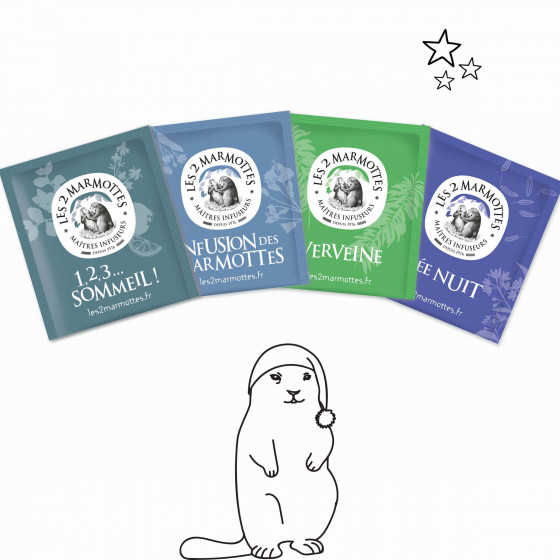 The genuine taste of nature
Our grandmothers' favourite herbal teas!
A selection of herbal teas to help you get a good night's sleep... who could be better for the job than Les 2 Marmottes? You'll find 4 delicious house brews in this pack designed to send you off gently to the land of nod. Verbena, orange petals, linden... at Les 2 Marmottes, we've always been big believers in the power of plants and nature!
With the 7 plants of our MARMOT HERBAL TEA, including linden, verbena, and orange petals, you can relax, unwind, and let your worries slide.
NIGHT FAIRY: fennel, verbena, orange blossom petals... a magical bouquet for a dreamy night's sleep. Zzzzzzz...
1,2,3...SLEEP! is a soothing combo for a restful night's sleep.
A delicious moment of calm with our VERBENA infusion
Health benefits
At Les 2 Marmottes, everything is home-made. Our brewmasters taste, cut, sift, and combine more than 50 plants in our workshops in France's Haute-Savoie region.
There's no need for added flavouring when quality plants are selected from their native soil and according to the season.
Ingredients/Packaging
120 bags (4 boxes x 30 teabags)
Pack of 4 boxes - Sleep Tight: a selection of plants for a good night's sleep
Net weight: 46 g (Verbena) + 46 g (Marmot Herbal Tea) + 50 g (Night Fairy) + 36 g (1,2,3...SLEEP!), for a total of 178 g - 4 x Boxes of 30 teabags
Ingredients in each box:
VERBENA (30 teabags) - Ingredients: 100% scented verbena*. Origin: France/Morocco *100% organic ingredients. FR-BIO-15.
MARMOT HERBAL TEA (30 teabags) - Ingredients: 20% linden, 20% scented verbena, peppermint, hibiscus flower, rosehip, German chamomile, 4% orange petal. EU/Non-EU origin.
NIGHT FAIRY (30 teabags) - Ingredients: 30% fennel seed, 25% scented verbena, 15% orange petal, orange leaf, cinnamon bark, matricaria chamomilla, rose petal. France/Non-EU origin.  
1,2,3...SLEEP! (30 teabags) - Ingredients: 35% lemon balm leaf, 22% lemon, 20% chamomile, lemongrass, rooibos, stevia leaf. EU/Non-EU origin
Recyclable wrappers, tea bags contain no staples nor strings.
Herbal teas made in the French Alps (Haute-Savoie)