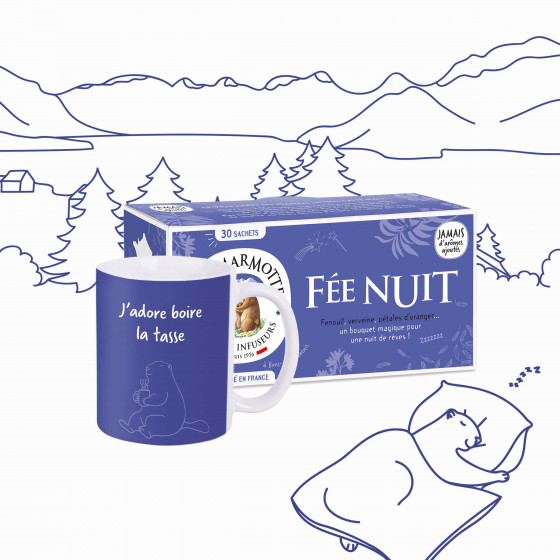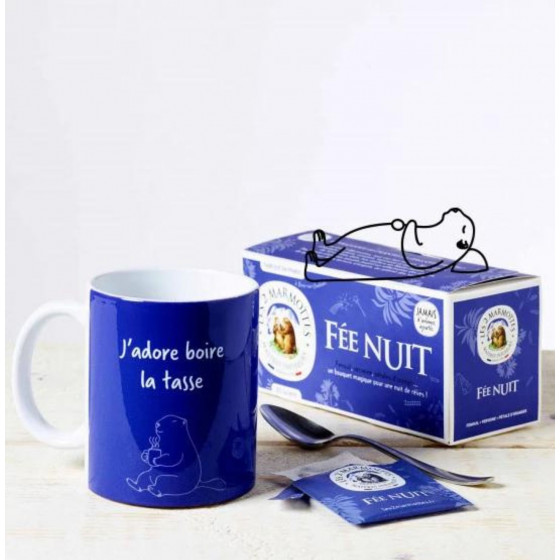 "J'adore boire la tasse" Pack
"J'adore boire la tasse" Pack
The genuine taste of nature
With no added flavours or sugars, our fennel verbena infusion will delight your senses.
What's our secret to putting a spell on you and transporting you, as if by magic, into a night full of sweet dreams? Plants, plants, and more plants. Fennel seeds and scented verbena leaves, of course, but also chamomile flowers, orange petals, and cinnamon bark.
Tasting details
A golden yellow hue with a light greenish aspect.
A dominant aniseed scent from the fennel, followed by the floral and sweet notes of chamomile, orange, and rose, and the woody fragrance of cinnamon.
The cinnamon dominates when it comes to taste; this is accompanied by the aniseed notes of fennel and all wrapped up in a flowery note that brings fullness on the palate.
Ingredients / Packaging
Pack with 1 box and 1 mug  
Net weight : 50 g (Night Fairy box) 
Night Fairy ingredients: 30% fennel seed, 25% scented verbena, 15% orange petal, orange leaf, cinnamon bark, matricaria chamomilla, rose petal. France/Non-EU origin. 
Recyclable bags - tea bags without staples, string or labels
Infusion made in the French Alps
Blue printed mug with a quote "J'adore boire la tasse" ("Loving it (this cup)" and the Les 2 Marmottes logo on a drawing of plants. 250 ml - hand wash recommended - microwave safe