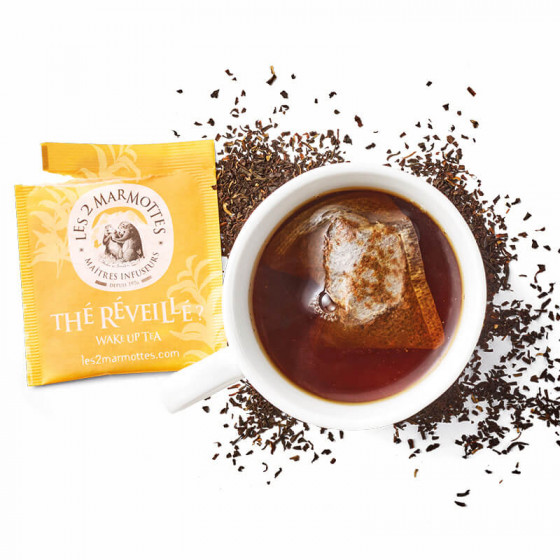 100% herbal breakfast tea

To find this extraordinary morning tea, our brewmasters had only one option: take the sea route to India and the plantations of the Assam region. There, on fertile land and the tropical climate required for great teas, we find the Camellia sinensis. Assamica provides exceptional quality black tea. With high-quality ingredients, our malted tea boasts strong flavours and definitely plays in the big league!
Go all out for breakfast every day thanks to our Assam black tea with spicy, full-bodied notes and a woody aftertaste. It is the most important meal of the day after all! Because not only is our breakfast tea a must-taste full of intense chocolatey flavours highlighted by the beautiful aromatic notes of sage, it's also packed with goodness. As you can see, our Assam black tea is perfect for breakfast! A gentle yet sure-fire energy boost with this morning tea! Les 2 Marmottes' honour!
Tasting details

A warm, dark brown hue.
Subtle woody scents.
A sustained and woody flavour, with notes of sweet spices and malt.
What are the benefits of Assam black tea?

You're guaranteed to stay on the ball with our Assam black tea! This invigorating breakfast buddy gives you the energy you crave with zero bitterness: it's the perfect drink to start the day the right way.
Its full-bodied notes, caffeine content, and deep aromas make it your ideal wake-up call! While it certainly deserves its nickname, breakfast tea, Assam black tea isn't just for the morning! A cuppa in the afternoon with a dash of fresh milk? Yes, please! Did you know...? It's also very refreshing cold or iced. Invigorating, thirst-quenching, tasty, and rich in antioxidants... our tea promises a good mood all day long. With 100% organically grown plants, you need look no further than our morning tea with no added flavouring or sugars. Give it a try!
Organic breakfast tea ingredients

A selection of organic plants for infusion
Ingredients: 100% Assam* black tea. Origin: India. *100% organic ingredients.
Net weight: 45 g - Box of 30 teabags
Recyclable wrappers, tea bags contain no staples nor strings.
Product made in France (Haute-Savoie)
Our brewmasters' tasting suggestion