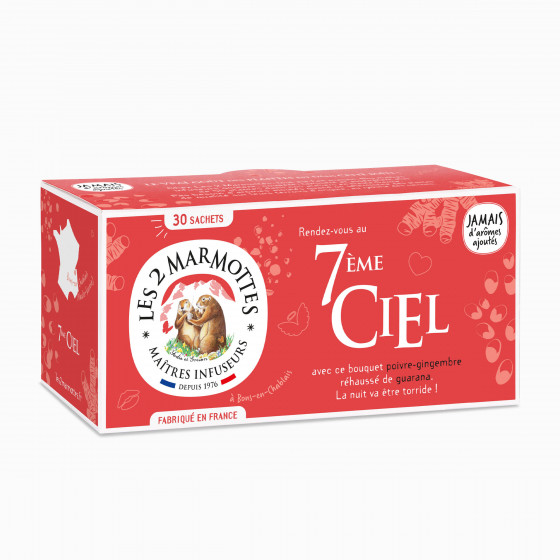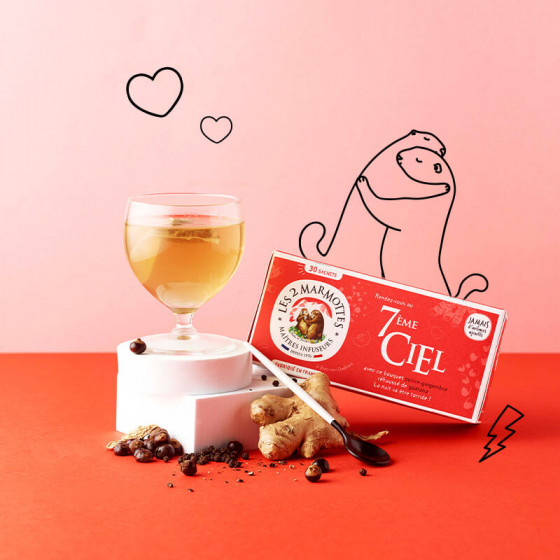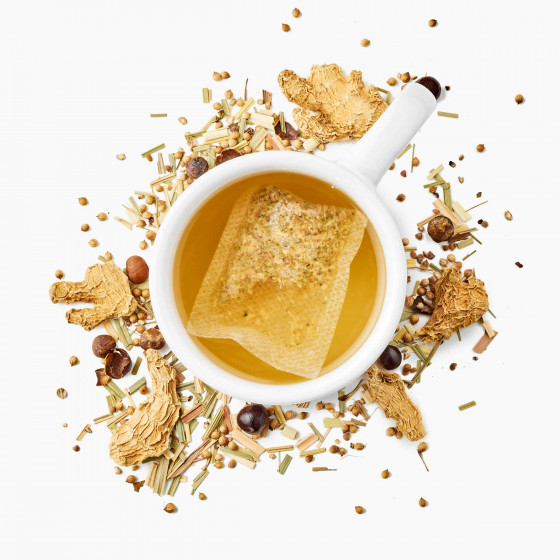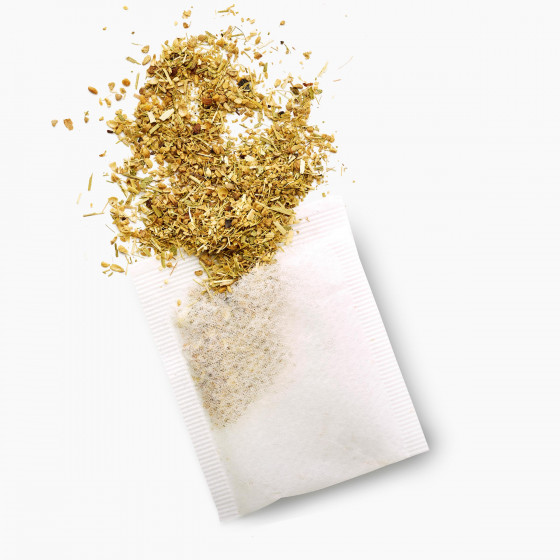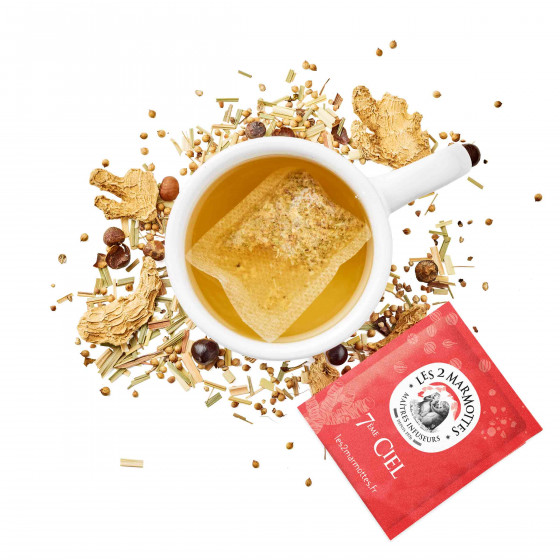 Seventh Heaven herbal tea
Seventh Heaven herbal tea
100% natural organic ginger tea
Since 1976, our brewmasters have been scouring the land for the best plants to offer you 100% herbal teas, with no added flavours or sugars. They were inspired by Aphrodite and Cupid to concoct this ginger-pepper infusion that will ignite the flame of love and stimulate your senses!
Full of fiery promise, this cocktail of hot notes and guarana energy is a true declaration of love and a harbinger of passionate desire. Our organic ginger tea will spice up any relationship and prolong the fun. Only the very best organic ingredients harvested at the best time from their best soils are used. There's ginger, of course, but also coriander seeds, lemongrass, eucalyptus leaves, guarana, and black pepper.
Tasting details
A dense yellow hue.
The captivating scent of lemongrass is mixed with a pungent promise of spices.
A powerful ginger attack, full-flavoured lemongrass, and the spicy charm of black pepper.
What are the benefits of a ginger infusion?
Despite its rough appearance, ginger has more than one trick up its sleeve. It's been used since the dawn of time in Ayurvedic medicine, and so its aphrodisiac reputation is clearly well established... ginger is the spice of life! The tangy, slightly lemony flavour combines perfectly with pepper, another superfood that packs a punch.
As for guarana, the 'eye of the forest' well known to the native Amazonians, it's the most caffeine-rich food in the world! The gift that keeps on giving! Our ginger-pepper-guarana infusion, with the addition of a few extra tasty touches (lemongrass, coriander, eucalyptus), is ideal for stimulating your senses and spicing up your life. Marmots' advice: keep one on you at all times!
When should I drink ginger herbal tea?
Ginger tea can be consumed throughout the day. Lovers can try it on Valentine's Day!
Ginger pepper tea ingredients
A selection of organic plants for infusion
Ingredients: 50% ginger*, coriander seed*, lemongrass*, eucalyptus*, 4% guarana*, 2% black pepper*. EU/Non-EU origin. *100% organic ingredients. FR-BIO-15.
Net weight: 45 g - Box of 30 teabags
Recyclable wrappers, tea bags contain no staples nor strings.
Product made in France (Haute-Savoie)
Our brewmasters' tasting suggestion