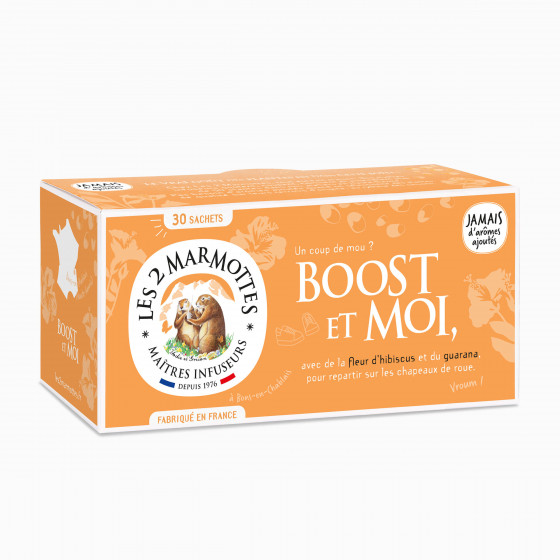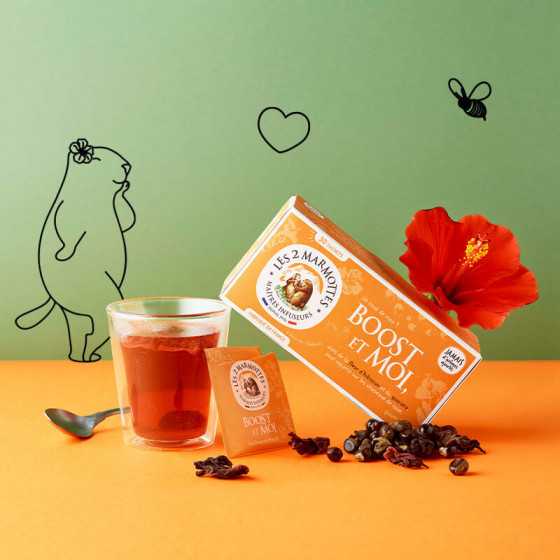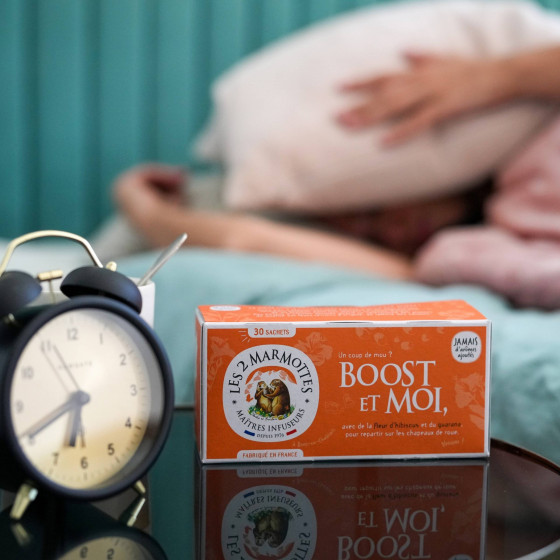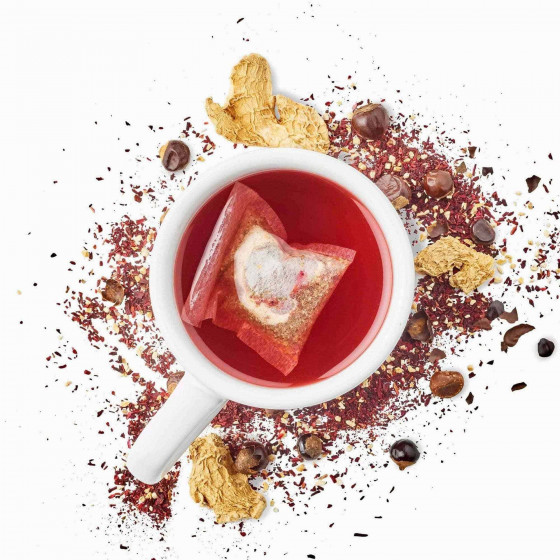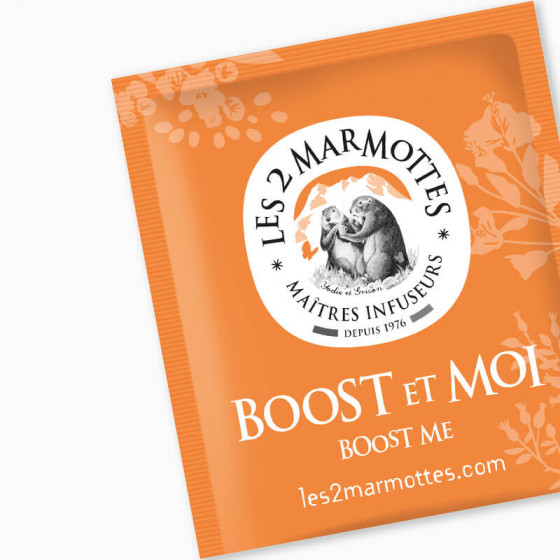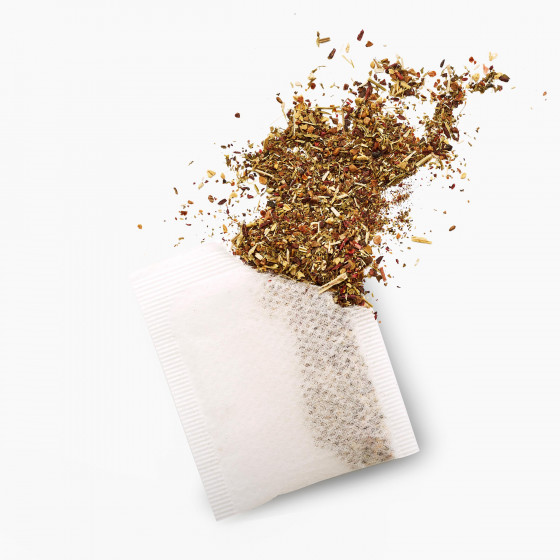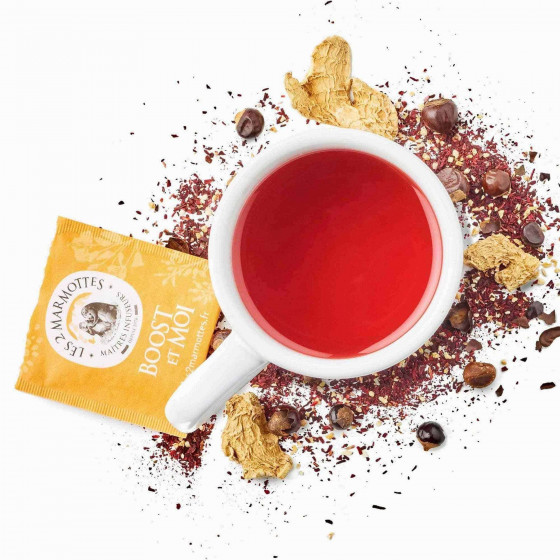 Hibiscus flower and guarana 100% herbal tea
No fewer than 7 plants are packed into this explosively energising tea! The end result of this winning combo is a delicious infusion that helps fight fatigue with a slightly acidic flavour.
Feeling curious and want to know the secret? At Les 2 Marmottes, we like to share! So, this hibiscus tea contains Hibiscus sabdariffa flowers of course, Guinea sorrel, as beautiful as it is tasty, and plenty of other ingredients, all carefully selected for their aromas and anti-fatigue benefits.
For a good mood... guarana, a small seed with powerful effects that has been consumed since pre-Columbian times, rosehip, a true natural gem, as well as ginger and ginseng, both of which have an outstanding reputation!
Lest we forget another star stimulant, eleutherococcus, an Asian plant that's well known to athletes and also known as 'Siberian ginseng'! Bottom line: with our hibiscus flower and guarana infusion, you won't be falling asleep any time soon!
Tasting details
A red hue with a hint of orange.
A tangy smell that mixes elegantly with a very gentle earthy note.
Intense in the mouth with the acidulous taste of hibiscus and a slightly spicy touch, all balanced out by the woody notes of guarana.
What are the benefits of a guarana infusion?
Why does our guarana hibiscus infusion put you in a good mood?
For many reasons! First of all, it's the very best of energising plants. The energising properties of ginseng, ginger, and guarana are nothing new! These plants have been used since the dawn of time, particularly in traditional medicines (African, Ayurvedic, Chinese, Indian, etc.). Picked in their prime from the best lands and during the best season, they're in peak condition!
And, as at Les 2 Marmottes we've always believed in the benefits of nature, there's absolutely nothing but plants in our anti-fatigue infusion. Not a hint of added flavours or sugars.
With a delicately pink colour, sweet lemon flavour, exhilarating scent, and totally energetic properties, our hibiscus/guarana/ginger/ginseng/rosehip/lemon balm/Siberian ginseng herbal tea is the ultimate ally for your daily well-being. Careful... it's addictive!
When should I drink hibiscus tea?
Hibiscus helps fight fatigue.
Enjoy 3 cups a day to benefit from the anti-fatigue effect. Be sure to maintain a varied and balanced diet and a healthy lifedata-font. For pregnant or breastfeeding people and children under 12, ask your doctor for advice before consuming.
Ingredients
A selection of plants for infusion
Net weight: 55 g - Box of 30 teabags
Ingredients: 30% Hibiscus sabdariffa hibiscus flower, rosehip, lemon balm leaf, 15% guarana, ginger, ginseng, eleutherococcus. EU/Non-EU origin.
Recyclable wrappers, tea bags contain no staples nor strings.
Product made in France (Haute-Savoie)
Our brewmasters' tasting suggestion