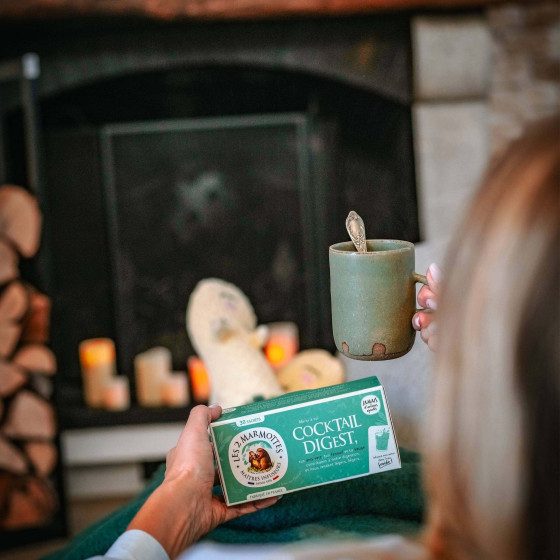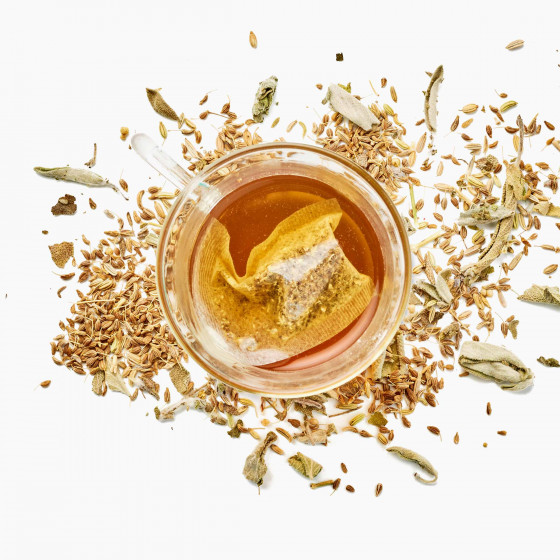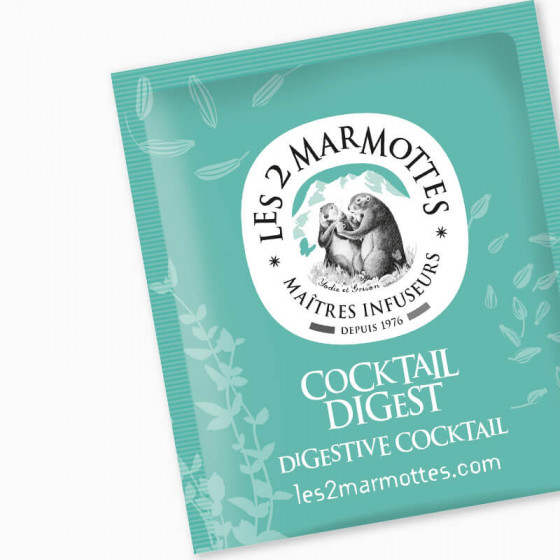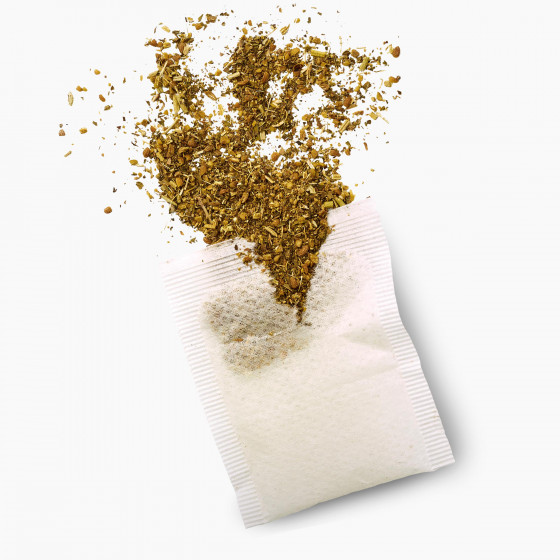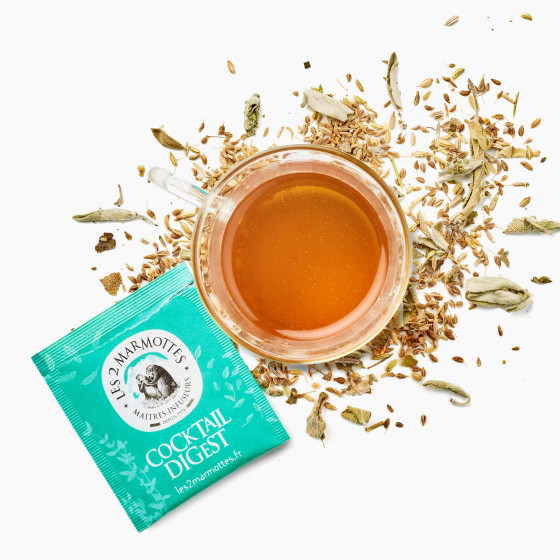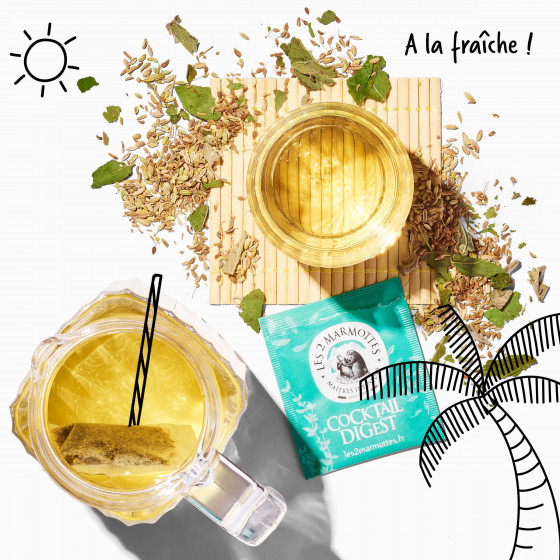 Digestive Cocktail herbal tea
Digestive Cocktail herbal tea
100% herbal post-meal infusion
Legend has it that it was after a rather heavy lunch that our brewmasters concocted the ideal digestive drink: aniseed tea!
These small seeds with a distinctive aroma are precious allies when you've overindulged.
Teamed with two other plants boasting digestive benefits -fennel and sage- our Digestive Cocktail is the perfect post-meal infusion! The great taste of aniseed, a touch of freshness, all punctuated with the irresistible aromatic notes of spearmint and sage. An explosion of flavours and aromas.
Since 1976, our brewmasters have been scouring the land for the best plants to offer you 100% herbal teas, with no added flavours or sugars. When the cold weather sets in, we test the best combinations and experiment with the tastiest brews just for you. And taste is paramount!
Tasting details
A warm yellow hue with brown undertones.
A nice balanced aroma thanks to the mint and aniseed.
The aniseed notes are subtly revealed on the palate, along with the sweetness of the fennel and mint.
What are the benefits of aniseed tea?
We pride ourselves on having invented the very first digestion cocktail... even a Christmas dinner would be no match for it!
Our aniseed and fennel infusion helps relieve trapped air, bloating, heartburn, and other digestive complaints. Rich in flavonoids and malic acid (among other things), these two plants are known to reduce the production of gas in the intestine resulting from the natural fermentation of food.
As for sage, it rounds off our after-meal infusion perfectly; this sacred herb boasts over 1000 properties and is also known for its ability to help relieve digestive problems. Our Digestive Cocktail post-meal herbal tea will become your right-hand man when it comes to digestive complaints.

And all this without caffeine of course!
When is the right time to drink an aniseed and fennel infusion?
Digestive Cocktail should be enjoyed 3 times a day after meals for an optimal effect on digestion.
Green anise aids digestion. Enjoy 3 cups per day to assist digestion*. Continue over 15 days as part of a detox. Be sure to maintain a varied and balanced diet and a healthy lifedata-font. For pregnant or breastfeeding people and children under 12, ask your doctor for advice before consuming. Not intended for people who are hypersensitive to umbellifers.
Aniseed herbal tea ingredients
Ingredients: 60% Pimpinella anisum green anise, 15% fennel seed, spearmint, 5% sage, rosemary. EU/Non-EU origin.
Net weight: 55 g - Box of 30 teabags
Recyclable wrappers, tea bags contain no staples nor strings.
Product made in France (Haute-Savoie)
Our brewmasters' tasting suggestion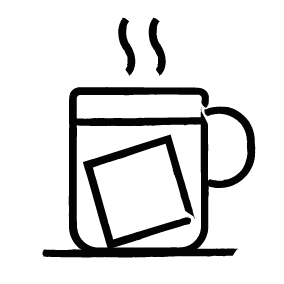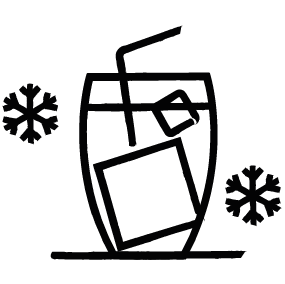 Try it cold
Brew 30 min in cold water