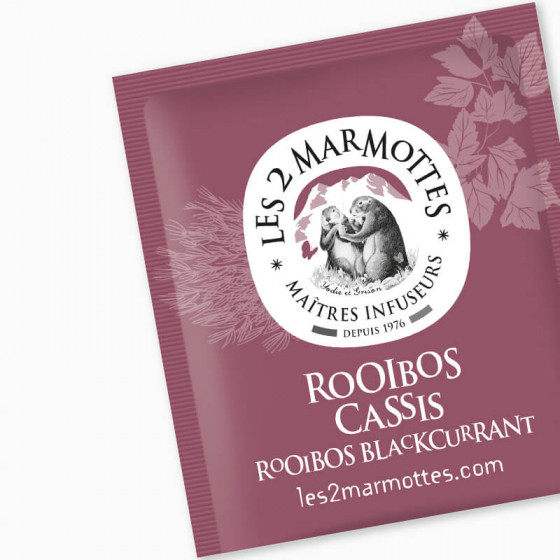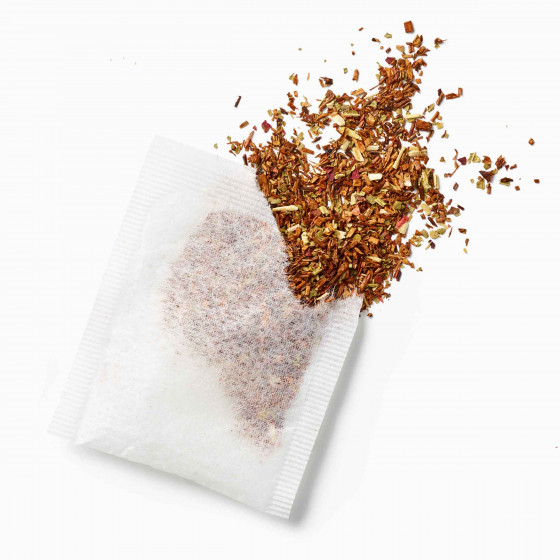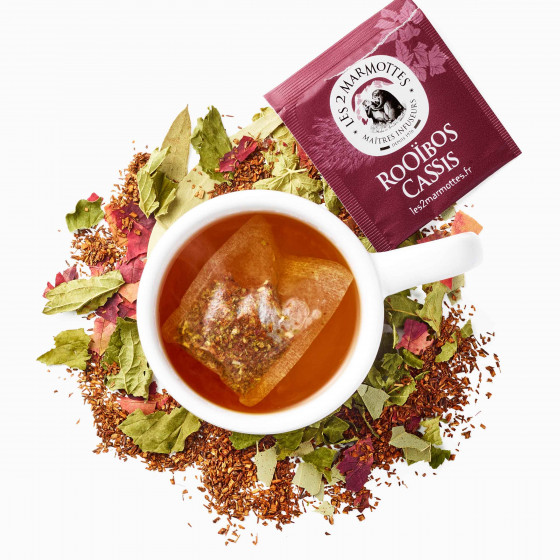 Organic Rooibos Blackcurrant
Organic Rooibos Blackcurrant
100% natural organic rooibos
A naturally nutty taste, a beautiful copper colour, fine gourmet fragrances...Look no further, it's organic rooibos! Our brewmasters, 'the rooibos bosses', didn't need to hear any more than that to combine it with the woody flavours of blackcurrant leaves, and they're not just any leaves of course, but those harvested by our small producer in France's Drôme region.
Grab a branch and hang on! This uncompromising rooibos infusion will show you what it's made of. And all this with zero caffeine or theine!
With Les 2 Marmottes, there's no need to leave home to see the world: a simple cup of this delicious red drink will transport you to South Africa, Rooibos' home country.
And, more precisely, the Cederberg Municipality, north of Cape Town, where our brewmasters happened upon this beautiful red tea plant (a nice but inaccurate nickname, as it isn't actually a tea) long enjoyed by the locals. With the addition of a few sprigs of red vine and eucalyptus, this organic blackcurrant rooibos makes a perfect cocktail to take you on a journey. A light and ultra tasty herbal tea to enjoy at bedtime and throughout the day for that well-being feeling.
Tasting details
A bright, golden orange hue.
A flowery and subtly smoky aroma, with a good balance between the rooibos and the blackcurrant leaf.
The naturally nutty taste of rooibos comes first, followed by the slightly fruity sweetness of the blackcurrant leaf. The eucalyptus brings freshness and lingering flavour.
What are the benefits of a rooibos infusion?
With this nature-infused organic rooibos, treat your taste buds to a beautiful journey and take advantage of a big boost to help you face the day. Rooibos is becoming more and more popular in the western world, and it's not simply by chance. Very low in tannins, it has no stimulating effects and can be consumed by everyone, including children and pregnant or nursing women. If you need to abstain from caffeine or theine, rooibos is a delicious alternative that'll give you the boost you need throughout the day.
And the icing on the cake is that our rooibos infusion is packed full of anti-oxidants! You know, those little molecules with big health benefits...
Are you a fan sweet and spiced flavours? Healthy drinks with no astringent effects and a delicious taste of honey and caramel? Infusions in the spirit of the times for a gourmet tea break with a difference? Then rooibos is made for you! Take your taste buds on a lovely journey by drinking a cup with Breakfast or during your daytime tea breaks. Flavours and benefits galore.
And all this without caffeine, of course! <
Rooibos blackcurrant leaf tea ingredients
>A selection of ORGANIC plants for infusion - 100% plants with no added flavouring..
Ingredients: 65% rooibos*, 25% blackcurrant leaf*, red vine*, eucalyptus*. EU/non-EU origin. *100% organic ingredients. FR-BIO-15.
100% plants : At Les 2 Marmottes, all our blends are 100% herbal and have no added flavours. And, because we seem to have a flair for it, we head out every year to find more of the best plants to bring you all their aromatic powers in our herbal teas. Flair, without skimping on quality: that's our philosophy!
100% made in France :  like all our blends, our Rooibos Blackcurrant infusion was made from scratch by our brewmasters. Taste, aesthetics, colour. Nothing is left to chance. From the creation of our infusions to the shipping of orders, everything happens directly from our burrow in France's Haute-Savoie region. 
Net weight: 36 g - Box of 30 teabags
Recyclable wrappers, tea bags contain no staples nor strings.
Product made in France (Haute-Savoie)
Our brewmasters' tasting suggestion