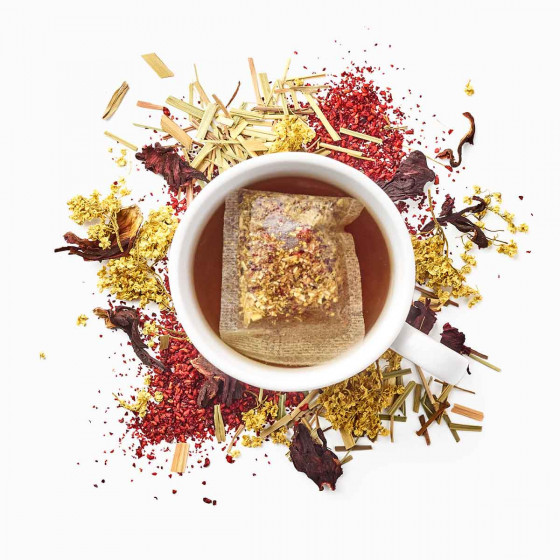 A green fist in a velvet glove
A delicious blend of elderflower, hibiscus, and raspberry that really packs a punch! Our marmots can't resist this delicious infusion, they keep asking our brewmasters for more!
Tasting details
A beautiful orange-red hue.
An indulgent and fruity fragrance.
The acidity of the hibiscus hits first, very quickly softened by the fruity taste of raspberries and finally the floral flavour of elderberry. 
Health benefits
Plants, flowers, fruits, and absolutely nothing else... A simple, healthy drink to brighten up your day in the most colourful way. 
When is the best time to drink a fruit infusion?
Our Tutti Blossom infusion can be enjoyed all day long: at breakfast, at work during a tea break, or even with an afternoon snack... Whatever floats your teabag!
Ingredients raspberry elderberry hibiscus infusion
A selection of plants for infusion
Ingredients: 45% elderflower, 26% hibiscus flower, lemongrass, 9% raspberry, stevia leaf. EU/Non-EU origin. 
Net weight: 45 g - Box of 30 teabags
Recyclable wrappers, tea bags contain no staples nor strings.
Product made in France (Haute-Savoie)
Our brewmasters' tasting suggestion